Book Fair Events
As you already know, the Book Fair is back at the Alliance Française Malte-Méditerranée. Discover two exceptional events designed to delight book enthusiasts and provide a complete immersion into the fascinating world of literature. 
Our first event will take place on June 16th at 6:30 PM. Dominique Lanni, a passionate author, will present the literary treasures he generously donated to the Alliance Française, showcasing works from his own publishing house.
During this evening, you will have the opportunity to personally meet Dominique Lanni and engage in dialogue with him. Feel free to ask questions about his creative process, inspirations, and the themes that animate his captivating works. Immerse yourself in exciting exchanges that will help you better understand his unique literary universe.
After the presentation and discussions, we invite you to share a friendly aperitif, creating the perfect atmosphere for new encounters and animated discussions with other literature enthusiasts.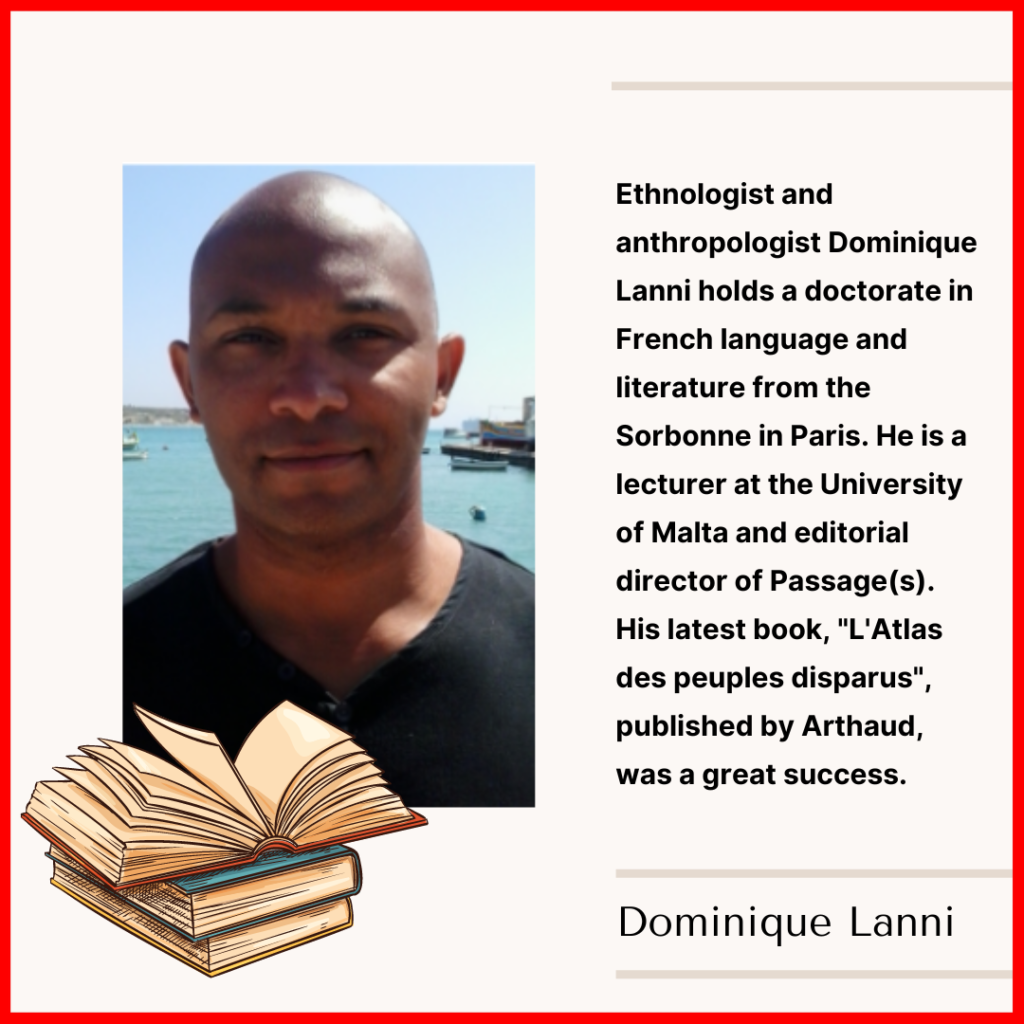 Born 13 years ago, with a catalog of 130 titles, Editions Passage(s) et Traverse(s), dedicated to short fiction, francophone literature, human sciences, and contemporary theater, have published major authors from the past and present, from here and elsewhere – Paul Morand, Franketienne, Suzanne Lilar, Alberto Mussa, Ngugi wa Thiong'o – as well as many young authors – Criss Niangouna, Dagny Gioulami, Béatrice Bienville, Gaelle Bien-Aimé… During this evening, Dominique Lanni, founder and co-director of the publishing house, will reflect on this adventure, present some titles that have marked the history of the publishing house, and provide a brief overview of the current publishing landscape.
Discover our event "Le Monde en Livres" on June 21st at 6:30 PM, a celebration of your passion for reading, literature, and imagination!
Join us for inspiring discussions and lively exchanges on the questions and dilemmas of the literary world, in French and English. This literary discussion evening is a unique opportunity that offers multiple advantages. It allows learners to practice French while discovering new genres and authors recommended by fellow book enthusiasts. Answer thought-provoking questions and engage in discussions about your literary preferences! Which book would you like to read again as if it were the first time?
In a friendly atmosphere accompanied by refreshments, explore genres, authors, and let your imagination soar! Join us at "Le Monde en Livres," a space where everyone can share their reflections and literary discoveries!

These two events are the perfect opportunity to enjoy the Book Fair of the Alliance Française while expanding your literary horizons and meeting fellow book lovers. Don't miss this opportunity to discover new works and join us for moments of sharing, exchange, and exploration at the heart of Francophone literature.