The Beaujolais Nouveau is back !
Beaujolais Nouveau, does this name ring a bell ?
Traditional French festival and annual gathering of French gastronomy lovers, the Beaujolais Nouveau festival was created in 1951 in response to the official decree prohibiting the commercialization of appellation d'origine wines before mid-December. It is set for the third Thursday in November in protest.
It celebrates a wine from the north of Lyon, with a bright red color, purple tints, a fruity nose, and a tangy mouth. It is usually drunk with a platter of cold meats.
Its festival is now celebrated all over the world, between 1am and midnight, regardless of the time difference.
The Alliance Française de Malte-Méditerranée, FarsonsDirect and Bureau Vallée are inviting you to participate in this traditional French festival ! Come and enjoy a good glass of Beaujolais around a French cuisine buffet on 17 November at 7.30pm in the presence of Mr Pascal Plutoni and Mr Daniel Chaussée, sommeliers and disciples of Escoffier, who will present the Beaujolais Nouveau 2022.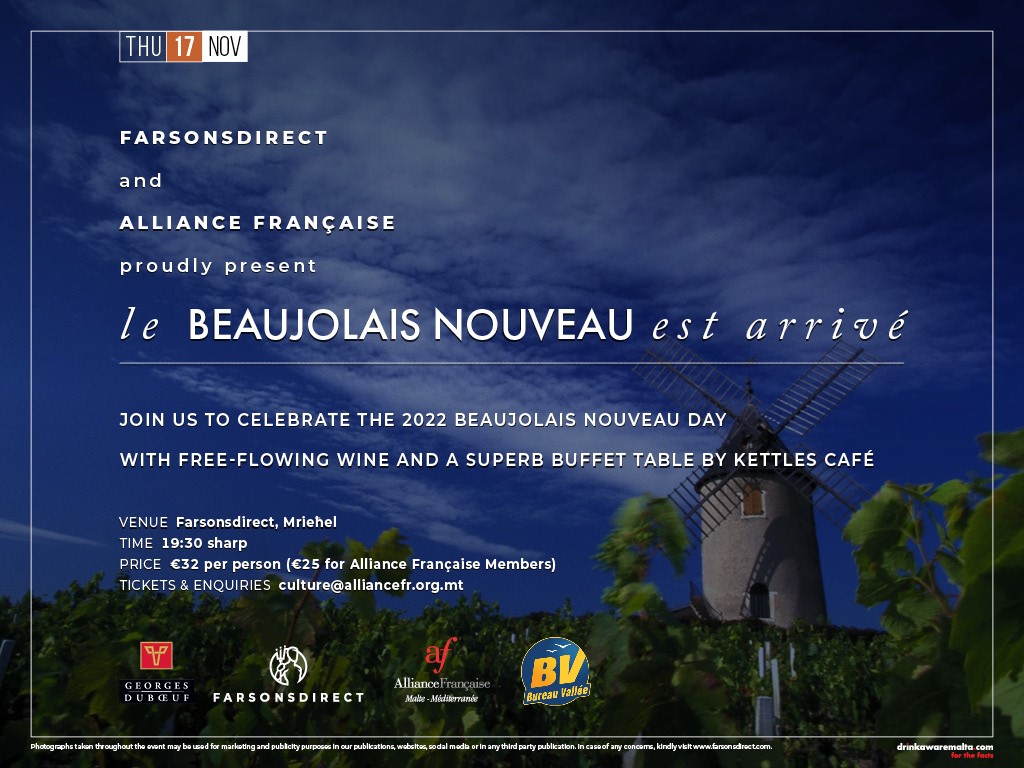 Le Beaujolais Nouveau est arrivé !
Thursday 17 November à 19:30
Price: 32€ non-members, 25€ members
Reservations: [email protected]
In collaboration with Bureau Vallée and FarsonsDirect
Places are going fast so don't wait !
You can find all the pictures of the event on our Facebook page with the album "Beaujolais Nouveau 2022" !
See you there!
Follow us on social media to be the first to know about next year's s events!
---