The 24th edition of the Bir Miftuh International Music Festival !
After a difficult period, Din L-Art Helwa returns with the 24th edition of the Bir Miftuh International Music Festival. The opening concert will take place on Saturday, May 20th at 7:30 pm in the beautiful Santa Marija's Chapel with three talented artists: the violinist Anya Gerter, the cellist Julie Sévilla-Fraysse and the mezzo soprano Clare Ghigo!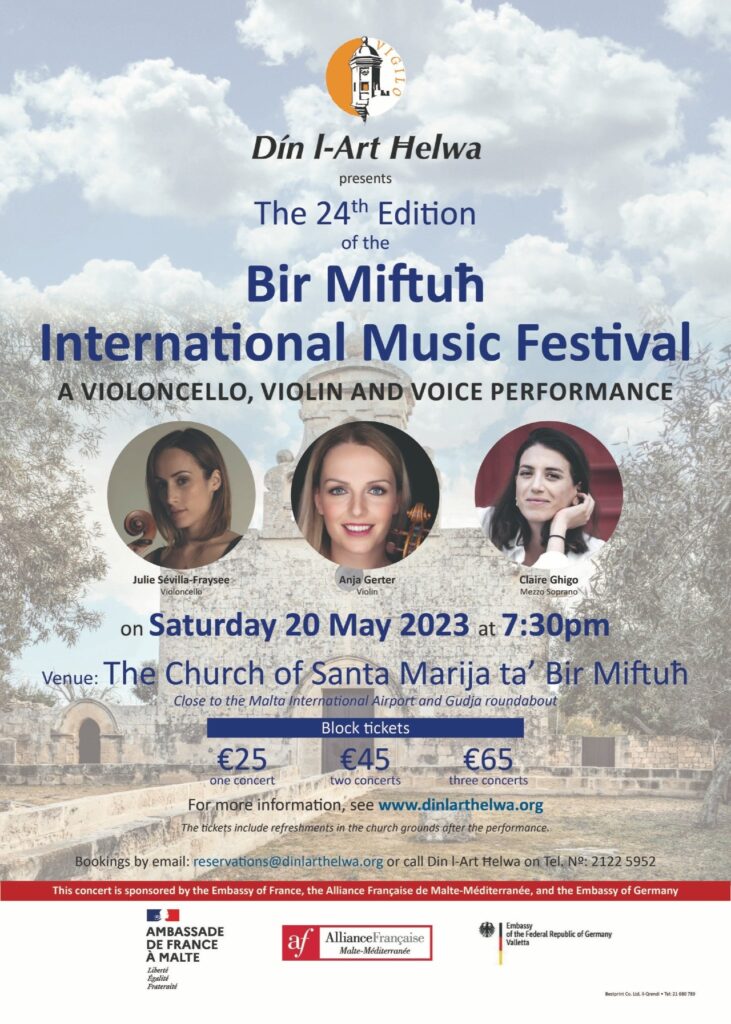 This concert is organized in collaboration with the French Embassy, the Alliance Française Malte-Méditerranée and the Embassy of the Federal Republic of Germany.
A second concert, supported by the German-Maltese Circle and the Goethe Institute, featuring the KARLSRUHE CONCERT DUO, will take place on Saturday, June 10 at 7:30 pm. Another concert, supported by Nectar Limited, will take place on June 16 at 8:00 p.m., featuring the Cappella Sanctae Catharinae choir.
Tickets for each concert are against a donation of €25 per person and include refreshments after the performance in the church grounds. The church of Santa Maria ta' Bir Miftuђ is located outside the Malta International Airport near the roundabout to Gudja. 
Reservations by email to [email protected]
We appeal to all lovers of music and the heritage to join us at the festival, which as usual will prove to be a special and memorable treat. You will also be giving your tangible and valid support to Din l-Art Ħelwa's worthy cause of safeguarding the cultural and natural heritage of our Islands.