Francophonie 2022
March is the month of Francophonie, that is of the French-speaking world! During that month, many events are organised to promote the French language in the world, an initiative of the International Organisation of Francophonie. With Malta joining this organisation in 2018, as an observer member, more and more events are offered to you during that month of Francophonie. Our 2022 program, in collaboration with the French Embassy in Malta, aims at promoting the diversity of the French language and Francophone cultures, as well as women and men's inclusion. You will find below our program. We are looking forward to celebrating Francophonie with you!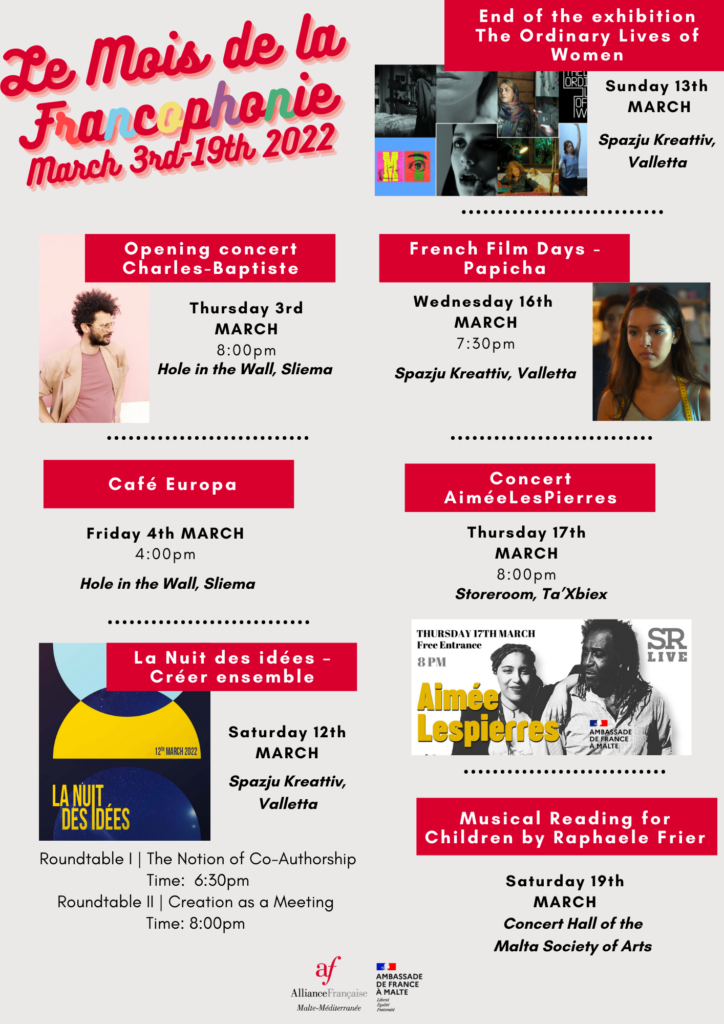 We will launch this month of Francophonie on Thursday 3rd March at 8 pm at the Hole in the Wall at Sliema, with the concert of Charles-Baptiste, a French pop singer, known for his cover versions of old and new French songs. Free entrance, but booking is mandatory.
On Friday 4th March at 4:30 pm, at the Hole in the Wall at Sliema, we are proposing you a debate of ideas, Café Europa, moderated by Jon Mallia who will receive Herman Grech, editor-in-chief at The Times of Malta, and Anne Michel, journalist at the French newspaper Le Monde, who will discuss the future of press freedom in Europe. NB: This event is subject to change or cancellation depending on the evolution of the situation in Ukraine.  
The Alliance Française Malte-Méditerrannée, the French Embassy in Malta and Spazju Kreattiv are honoured to present you the first Night of Ideas in Malta, on Saturday 12th March from 6:30pm at Spazju Kreattiv, in collaboration with the Institut Français. For this first edition, French and Maltese artists will present their work and make us reflect about collective creation. A first roundtable at 6:30pm will approach this notion on a historical perspective, moderated by Margerita Pulè. The second roundtable at 8pm, moderated by Toni Attard, will explore, meet and exchange on the notion. Free entrance, but booking mandatory. 
On Saturday 12th March at 8pm, at the Collège of France in Paris, but also online, the Forum of European Youth will take place with 54 young people from the European Union will debate on diverse subjects such as climate change, LGBTQI+ rights, or even press freedom.
The exhibition "The Ordinary Lives of Women" at Spazju Kreattiv, presented since January 28th 2022 will come to an end on Sunday 13th March. This collaborative exhibition of 10 women artists aims at celebrating heroines of daily life, who are often forgotten. Free entrance.
On Wednesday 16th March at 7:30 pm, we will see you at Spazju Kreattiv Cinema for the screening of Papicha by Mounia Meddour, as part of our French Film Days. This movie was released in 2019 and won the Best First Feature Film Award at the 2020 César ceremony. It follows the lives of five women students living in 1997 in Algiers under the terrorists' rule, who are dreaming of freedom. Price: 7€, if you are a member of the Alliance Française de Malte: 6€.
Meet us for a jazzy concert of the French duo AiméeLesPierres on Thurday 17th March at 8pm, at Storeroom in Ta'Xbiex. This elegant duo will charm you with their guitar and voice songs. Free entrance, but booking mandatory.
On Saturday 19th March at 3pm, at the Concert Hall of the Malta Society of Arts in Valletta, we will propose you a musical reading in French by author Raphaële Frier. She will read her book "The Little Red Fury", which is a feminist version of the famous "Little Red Riding Hood". Free entrance.
Follow us on social media to stay tuned to our events!
---