Santa & Cie au cinéma
Les French Film Days ne sont pas terminés ! Notre série d'évènements cinéma a commencé en Septembre avec la projection d'Antoinette dans les Cévennes. Nous avons ensuite rendu hommage à Jean Paul Belmondo avec le film L'Homme de Rio. Vous nous avez ensuite rejoint pour les trois évènements uniques à Malte autour de Patrice Leconte. Retrouvez un récapitulatif complet sur la venue du réalisateur à Malte en cliquant ici !
Désormais, les fêtes de fin d'année approchent et avec elles l'esprit festif de Noël. Votre Alliance Française de Malte-Méditerranée vous propose une projection le mercredi 15 décembre.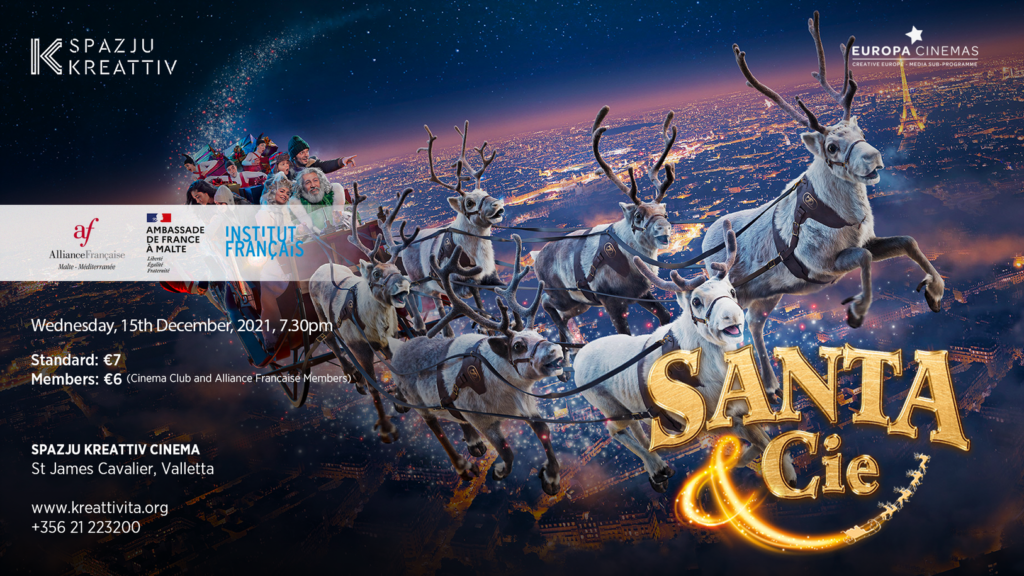 Pour faire plaisir aux petits comme aux grands, passionnés de cinéma français ou de films de Noël, Découvrez Santa & Cie. Ce film avec Alain Chabat au scénario, à la réalisation et comme acteur principal marquera notre dernière projection au Spazju Kreattiv Cinema de l'année 2021 !
Santa & Cie
Mercredi 15 Décembre à 19h30 au Spazju Kreattiv Cinema
Plein tarif: 7€ – Tarif membre: 6 €
En français sous-titré anglais.
Rien ne va plus à l'approche du réveillon : les 92 000 lutins chargés de fabriquer les cadeaux des enfants tombent tous malades en même temps ! C'est un coup dur pour Santa (Claus), plus connu sous le nom de Père Noël… il n'a pas le choix : il doit se rendre d'urgence sur Terre avec ses rennes pour chercher un remède. À son arrivée, il devra trouver des alliés pour l'aider à sauver la magie de Noël.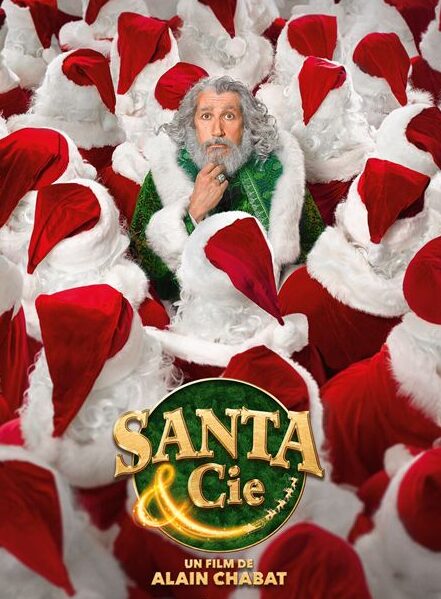 Attention ! Le nombre de place est limité, réservez vos places dès maintenant!
Pour être au courant de nos projections cinéma de l'année 2022, suivez-nous sur les réseaux sociaux!
---
COVID-19 GUIDELINES
In order to maintain certain health precautions, screenings will be limited to a maximum of 30 people.
Spazju Kreattiv will refuse entry onto the premises of patrons if they are visibly unwell or have respiratory symptoms.
Patrons are subjects to temperature checks at the entrance for the presence of fever (persons with a temperature of 37.2 Celsius or higher will be denied entrance).
Adequate and easily accessible hand sanitisers at the entrance of the premises and in common areas are in place. Patrons are to sanitise their hands prior to entrance.
Patrons are encouraged to wear masks or visors while on the premises.
Audiences are encouraged to maintain social distancing of at least 2 metres from other individuals/groups.
Attendance is required 30 mins prior to the screening due to temperature checks and other precautionary measures that will be taken to ensure public safety.